Beneath the stunning tapestry of diverse cultures, lush landscapes, and pristine waters of the Pacific Islands lies a pressing challenge that threatens both the environment and the livelihoods of its people: climate change.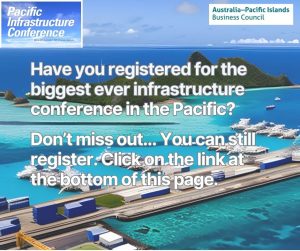 Rising sea levels, intensified and more frequent storms, and shifting weather patterns are all becoming increasingly pronounced in this part of the world. To address this crisis, the Pacific Islands face a critical need for robust infrastructure that can combat climate change and mitigate its effects.
The Developing Sustainable Resilient Infrastructure in the Blue Pacific Conference to be held in Brisbane, Australia, on 25-27 September, will bring together major stakeholders to discuss and identify mitigation and adaptation projects across the region.
The Infrastructure Deficit
The Pacific Islands region is grappling with a severe infrastructure deficit that exacerbates the impacts of climate change. Many of the islands lack the necessary roads, bridges, and ports to transport essential goods, provide access to healthcare, and respond effectively to climate-related emergencies. As sea levels rise and storms become more frequent, these deficiencies in infrastructure hinder the ability of island communities to adapt and recover.
Combatting Climate Change
Robust infrastructure plays a pivotal role in the fight against climate change in the Pacific Islands. Investments in renewable energy infrastructure, such as solar and wind power, can reduce the islands' reliance on fossil fuels and decrease greenhouse gas emissions. Additionally, efficient transportation networks can facilitate the movement of people and goods, reducing the carbon footprint of the region. By transitioning to green infrastructure, the Pacific Islands can contribute to global efforts to curb climate change.
Mitigating Climate Impacts
The Pacific Islands' vulnerability to climate change necessitates infrastructure that can withstand its effects. Coastal defences, including seawalls and mangrove restoration projects, are crucial for protecting communities from rising sea levels and storm surges. Robust infrastructure can also ensure a secure supply of clean drinking water, a critical resource threatened by saltwater intrusion. Moreover, resilient buildings and evacuation routes can save lives during extreme weather events.
Building Resilience
Investing in robust infrastructure is central to building resilience in the Pacific Islands. By enhancing their capacity to respond to and recover from climate-related disasters, these nations can safeguard their economies and the well-being of their people. Moreover, resilient infrastructure can support the preservation of natural ecosystems, which are essential for biodiversity and tourism, vital economic drivers for many Pacific Island nations.
Economic Benefits
The construction of climate-resilient infrastructure offers economic advantages as well. It can stimulate local job growth, provide opportunities for skill development, and attract international investments. Moreover, by bolstering the tourism sector and fostering sustainable agriculture, infrastructure investments can help diversify the region's economies, reducing their dependence on a few vulnerable industries.Top of Form
The Infrastructure Conference
This ground-breaking conference aims to foster inclusivity, bringing together political and business representatives from all 16 Pacific Islands Forum countries, as well as Australia, New Zealand, the United States of America, Japan, France, and other bilateral partners and multi-lateral development agencies such as ADB, World Bank, and UNDP. The speaker program has diverse line-up, featuring representatives from major bilateral donor countries, multilateral donors, and presentations by all Pacific island countries on their infrastructure pipeline. The countries have an extensive pipeline of donor-funded infrastructure projects planned for the short to medium term, including the A$4 billion Australia Infrastructure Financing Facility for the Pacific (AIFFP). Breakout sessions will focus on specific countries with their respective government representatives discussing their infrastructure pipelines in the presence of donor agencies and private sector companies and contractors, opening up potential opportunities for businesses attending.
For more information and to register, please click on this link: online. https://events.apibc.org.au/event/WXBHNE/